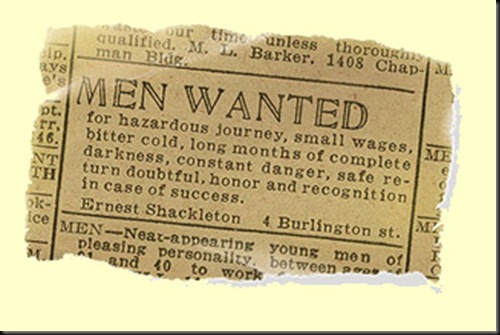 Image:

John Hyatt
This is the original advert with which Ernest Shackleton recruited men for his ill-fated Antarctic expedition. Besides being considered one of the finest examples of copywriting in the 20th century* the ad attracted a first rate crew who's safe return from an icebound shipwreck became legend.
Those were the days before liability laws and wrongful death suits. Shackleton wasn't posting a disclaimer or release of liability but rather an invitation to the few who would sign on for the right reasons.
It wouldn't take much to rewrite this as a call to the writing trade:
WRITERS WANTED (BUT NOT NEEDED)
for absurdly competitive work with little compensation or recognition, constant rejection and disapointment, bitterness and failed relationships likely, indifference of peers certain, immense personal satisfaction and a remote chance of immortality if done right.
*
The 100 Greatest Advertisements 1852-1958: Who Wrote Them and What They Did
by Julian Lewis Watkins (Mineola, NY: Dover Publications, 1949) p. 1.