From 12 Christmas Gifts for Writers at Broke-Ass Stuart.
Microsoft Word is the Huffy bike from Wal-Mart of word processors–it's a fine place to start, but you need to upgrade when you're ready for long distance.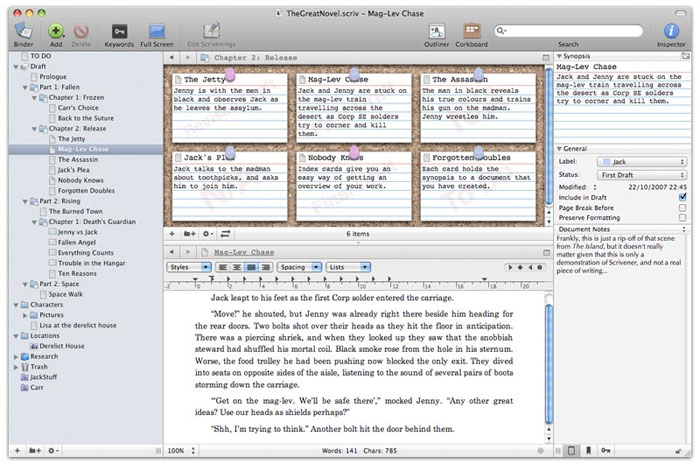 For screenwriters and playwrights, the industry standard is the very expensive and very worth it Final Draft 9. FD9 formats your screenplay as you type, has space to plot every aspect of your story and character arcs, and even virtual index cards for step-outlining that are integrated with the script.
Scrivener is the real deal for real novelists, and an affordable alternative ($45) to Final Draft 9 for screenwriters.
Scrivener has 'cork boards' for outlining. There are daily word count targets based on your deadline. Scrivener is for big projects and all the notes, outlines, character sketches and miscellany they entail. It has space for illustrations and maps of your story world. There's a template for multi-part novels–Anna Karenina could've fit neatly into Scrivener's Russian doll of folders.
When you're project is complete, Scrivener lets you compile your work into a variety of manuscript and ebook formats.